Crossfit Beginner? Here's How It Goes Down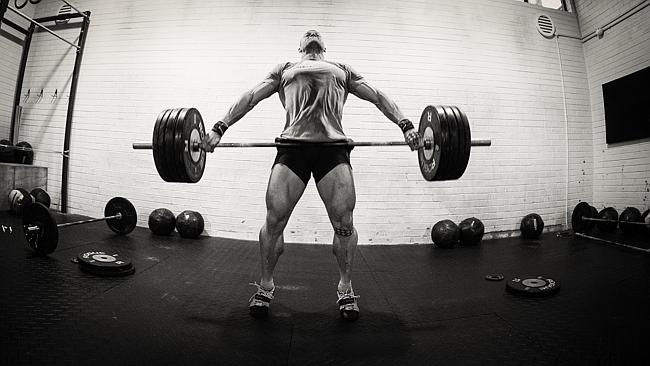 Revisiting my first experience with Crossfit a bit over a year ago. Here's how it went down…
A couple of months ago I did something I'd been meaning to do for almost five years and stepped across the threshold of a gym as a Crossfit beginner: a murky world where devotees of this particular fitness phenomenon flog themselves senseless doing workouts that combine Dad-style circuit training with Olympic weight-lifting and even some gymnastics, usually performed to cranking music and without a shirt on.
And that's just the women.
As I approached I was wary, nervous even.
Why?
I'm in reasonable nick, I've had some Olympic lifting tuition, my endurance is pretty solid most of the time. I should be reasonably confident walking into most gyms, unless it's a Westside Barbell-type affair.
But Crossfit, you see, has a reputation.
There's plenty of haters out there. People who think it's cult-ish, people who think it's dangerous, people who don't give a damn for the acronyms (AMRAPs, WODs, T2B) or the workouts with female names (Cindy, Diane, Fran).
Perhaps the biggest beef is that people who do Crossfit are accused of thinking or talking about nothing else. Which may or may not be true.
Generally the haters seem to comprise people who've never actually done any Crossfit and, therefore, may not be in the best position to diss it.
But, I guess that illustrates just how Crossfit divides the fitness world.
I should divulge here that I do have a little "previous" with Crossfit.
Back in 2010, my gym ran a class called Express Row, led by Chad Mackay. The classes were mercifully short but brutal. Chad was already the poster-boy for Crossfit in Australia and later that year placed 12th in the Crossfit Games in California, a result that earned him the questionable title of '12th Fittest Man on the Planet' to sit alongside his unquestionable title of  'Nicest Man in Australia'. Chad gave me encouragement and tips but soon left the gym to set up his own Crossfit box, which has become one of the best in Sydney, if not Australia.
Buoyed by the encouragement and hours at work whittled away watching Crossfit videos, I determined to master double-unders and kipping chin-ups.
Double-unders came quite quickly through 10 minutes training per gym session and I wore the rope welts on my arm like a half-sleeve tattoo.
Kipping chins-ups were an altogether different proposition, principally because I could barely string more than three normal chin-ups together. And then, innocuously enough, it happened. I felt a twinge in my shoulder and thought nothing of it. It was still there at my next gym session, and the next, getting worse with each day until it got so bad I couldn't sleep on either side because BOTH of my shoulders were so sore.
It turns out I'd developed bursitis in at least one shoulder (the left). Endless, physiotherapy followed,then an ultrasound and an MRI scan, then cortisone injections from a leading shoulder specialist, then an arthroscopy. It was looking like there would be no alternative to surgery. Until I met a retired rugby league player who'd had two shoulder reconstructions. Proudly showing me his scars he recommended pilates as a last resort.
To cut a short story shorter, the pilates identified shoulder instability as the cause of my pain and through weekly sessions the bursitis faded away and is now a distant but painful memory. This story perfectly highlights why people are wary of Crossfit but clearly the danger is not Crossfit but trying to do too much, too soon, so as long as your Crossfit coach is scaling everything back to your level, there shouldn't be any unnecessary injuries.
This may go some way to explaining my trepidation ahead of my first Crossfit session. But, it turns out my fear was misplaced. A few people were limbering up ahead of the class. They all nodded and smiled hello. Some introduced themselves. The coach – Hannah – gave me a quick debrief and then we were into the warm-up: everyone doing exercises called Prone Cobras, Dislocations and Duck Walks without a second thought.
I just copied what they did.
Then it was onto the first of three workouts, two of which were weightlifting-based and the third a metabolic-conditioning (met-con) workout. So workout 1 was 30/20/10 cleans on a 3 minute cycle with progressively heavier weights.
Workout 2 was the same but with overhead squats. This meant I did 60 reps each of clean and OH squats which is pretty chunky volume if you're used to something like a typical 3 x 8 set / rep sequence. The key: start light. Like, really light. The met-con workout involved burpees, box jumps, toes-to-bar and hang cleans, and was an absolute killer.
I'd done three 'workouts' in an hour, each one as hard as a typical single gym session. I was toasted afterwards. Absolutely spent. For the next 3 days my body felt as though it has been hit by a truck. But I loved it.
I loved that I was working out on my own but with other people. I loved the diminished element of competition in that we were competing with each other but mostly with ourselves and the clock. And I loved the fact that people were so encouraging and the teaching was so precise.
The only thing I couldn't work out was how it had taken me so long to get into a box.
Sucker For Punishment?
Here are 5 fun Crossfit workouts to get stuck into.
Privacy protected - that means no spam.