5 One Pot Wonders For Busy Dads & Their Families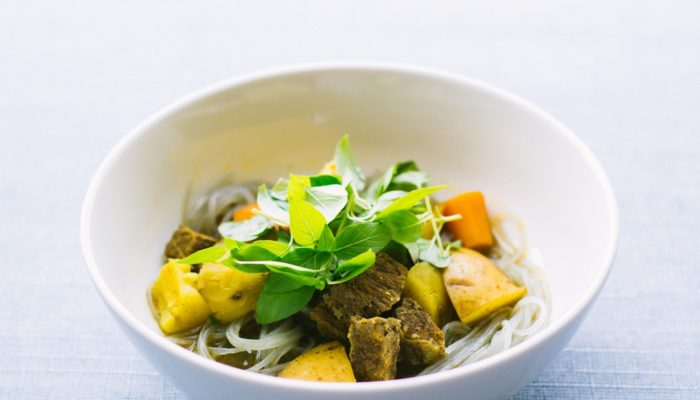 Unless you're lucky enough to have a private chef or an obliging wife (or husband) prepping your evening meal every night (and, let's face it, they're like hen's teeth these days), you're going to need to develop some smarts around cooking your evening meal. Fresh, easy and simple dinners are the order of the day.
Yep, sure you could outsource dinner to a local takeaway, and there are times when this is absolutely an wonderful fix but, in my view, it should be just that: a quick fix when you have absolutely no other options.
With a soupçon of planning and a dash of cunning you can ensure that: a) you mostly do have other options; and b) those options don't take a huge amount of time and effort, meaning that you can wow your wife / girlfriend / family with your culinary nous whilst also getting on with other, more important tasks.
So far, so good. Almost too good to be true, huh?
Well, not necessarily. Enter the 'One Pot Wonder', an entire meal that uses only a solitary cooking vessel (so minimising washing up) and yet still manages to be delicious, hearty and impressive.
As an added bonus the one pot wonder frees up 25-30 minutes for you to do a quick bodyweight or kettlebell workout or (for maximum kudos and possible reward later on) massage Super Tired Mum's feet.
Here are five of my favourites. Try them out.
1. Chicken and roasted vegetables
The Daddy of all One Pot Wonders.
Because chicken loves to be roasted, this is virtually idiot-proof. I'm using the term virtually because overcooking the chicken and making it rubbery will ruin this dish. Roasted veggies, however, can't be overcooked – they taste better once they've crisped or charred up slightly.
Chop enough of the following veggies to cover two-thirds of a small baking tray or roasting tin: zucchini, celery, broccoli, sweet potato, pumpkin, red onion, garlic, red pepper. Drizzle with olive oil and salt and pepper and mix through. This constitutes the Roasted House Vegetables which will crop up again in other dishes.
A weekly run to the grocer or supermarket should ensure you have some or all of these knocking around the fridge. Use whatever you like or you have available. It sounds really wanky but I like to have as many colours as possible in the mix so I can "taste the rainbow" (blurgh!).
Oil the remaining one-third of the roasting tin ready for your chicken breast which you need to dust with some kind of marinade, again depending on what you have available or feel like tonight.
I use a range comprising of but not exclusively: oyster sauce, chinese five-spice, Keans Curry Powder (I used to mix my own with cumin, turmeric, ginger etc before realising that this stuff saved me around 4 minutes which is the same as 1 Tabata) , Mexican seasoning.
Pour a little more oil on the dusted chicken and – this is the crucial part if you want to avoid rubbery chicken – place a little tent of foil over the chicken (but not the vegetables) and whack it in the oven at 180-200 degrees for 28-35 minutes.
After 15 minutes or so bring the tray out, move the vegetables around to stop them sticking and take the foil off the chicken.
Move the chicken to a board to rest for as long as you need to serve the veg. When it comes to serving the chicken, slicing it diagonally serves a number of purposes. First you can ensure its cooked through. It should be completely white (obviously) but soft and succulent. It also looks much grander and cheffy presented this way than as a single, massive slab of bird.
It you need more filler, brown rice or cous cous goes really well.
2. Mama's Sicilian Sausage Bake
Another Super Fit Family staple, this gets served up at least once a fortnight, typically to great fanfare, especially if you have guests trying it for the first time.
Here's what you need:
– Six gourmet sausages (preferably from a butcher, ideally two or three types)
– Any mix of the Roasted House Vegetables (sweet potato and red onions work really well in this dish, as do whole cloves of garlic)
– Good lug of olive oil
– Salt and pepper
Mix the whole lot together and chuck it into a hot oven for 30-35 minutes. With about five minutes to go, grate a load of cheddar over the top along with some breadcrumbs if you have them in the freezer and cook until the cheese has melted.
3. Fancy But Simple Pink Ling with Chorizo
As a rule I think we're intimidated by cooking fish.
This probably has more to do with primeval intuition and the sense of comfort to be found for any male (a Dad being as representative a sample of the species as any) in torching flesh over a flame (or an electric or induction hob, for that matter).
As a notion this is plainly absurd for two reasons. Firstly, whilst cooking fish perfectly is an undeniable skill, cooking fish "reasonably" well is perhaps easier than cooking meat "reasonably" well. Secondly, any water-dwelling folk are likely to have based a diet around seafood rather than meat so intuition here would steer us towards fish.
Anyhow, in order to avoid getting lost down an anthropological rabbit hole, let's get onto the dish.
Oil the base of a baking dish and place the ling (or any other thick, white fish) in it. Layer halved cherry tomatoes and sliced chorizo over and around the ling. Then scatter basil leaves all over and around the dish, season liberally and drizzle with olive oil.
Cover with foil and bake for 15-20 in a medium-hot oven, removing the foil for the final five minutes of cooking.
This dish loves green vegetables as a side.
4. Rooney's Simple Fish Stew
This is one of my Mum's House Specials which I always thought was fairly elaborate until she showed me how to make it. The key is finding a decent fishmonger and getting the mixed fish all ready to drop straight into the stew.
I asked the old girl for the recipe expecting some handwritten note delivered by carrier pigeon but instead got a scanned page from her trusty and well-thumbed old cookbook (below). Looks like she's mastered the digital camera and the internet in one fell swoop. Go Mum!
The recipe might look daunting so I've listed an abridged version below which is still really delicious but lops off a few minutes of prep time:
1. Sautee half an onion, half a fennel bulb and one garlic clove for 5 minutes.
2. Stir in a can of chopped tomatoes, a good dash of chilli sauce and half a cup of fish stock. Bring to the boil, cover and simmer for 25 mins.
3. Add 300 or so grams of mixed seafood from the fishmonger to the stew. Recover and cook for 4-5 mins until the fish is just cooked.
4. Serve with brown rice or, if you're feeling mischievous, buttered bread to mop up the sauce.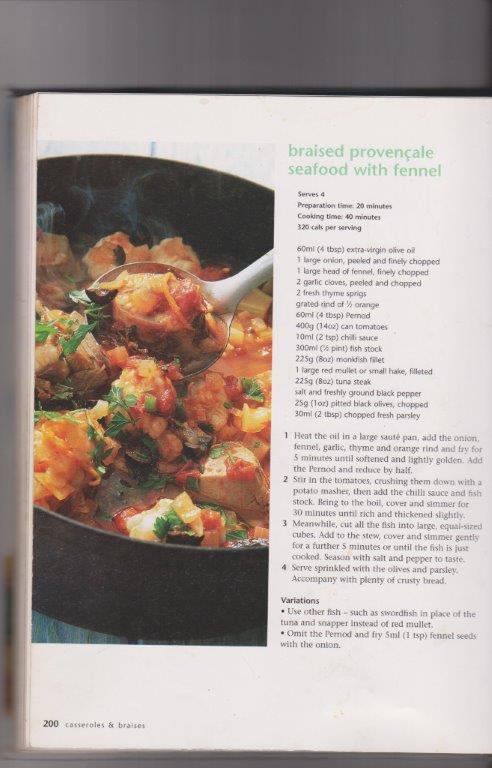 5. Lamb Leg Steak with Lentils and Steamed Vegetables
Not strictly a one-pot dish but a wonder nonetheless and your washing up will be limited to a frying pan and a microwave suitable steamer.
The great thing about this plate of food is the way the flavour of the lamb compensates more than adequately for the simplicity of the side dishes, to the extent that you don't need to bother with any kind of sauce.
Here's what you do:
Pour olive into the frying pan and get hot (about a level 11/12 out of 14)
Pat dry the lamb with kitchen towel and dust with Keans Curry Powder.
Chop a handful of broccoli florets, half a zucchini and a celery stick. Throw into microwave steamer. Don't forget the water!
Place lamb in the pan. Start timer.
At 3 minutes turn over the lamb steaks.
After 6-7 minutes remove lamb from pan. Place on a board, cover with foil and a tea-towel and rest for 4-5 minutes.
Steam veggies in the microwave for 4 minutes.
Microwave packet of brown rice for 90 seconds
Remove vegetables from the microwave. Drain and then blast under cold tap to get colour back.
Slice rested lamb on a diagonal, placing some on a bed of rice and some beside it with vegetables around the side.
Conclusion
And there we have it. These simple one pot wonders have come to my rescue time and time again, impressing friends, family, visitors and delivering interesting yet simple dinners interesting with minimum time and effort.
Try them and let me know how you got on.
SFD
To get more timesaving recipes like this straight to your inbox, sign up to my newsletter below.