Lifestyle Optimisation For Dads
What if there is a blueprint to survive being a Dad?
Discover how to systematically re-engineer your life to take control of your body, your diet, your bank balance and your mindset, all with the minimum amount of disruption to your life.
Start Optimising Your Life Today With 26 Of My Best Hacks
We respect your privacy and your information is 100% secure
If You've Ever Asked Yourself These Kind Of Questions Then You're In The Right Place
How Can I Build A Beach-Ready Body Without A Gym Membership?
How Can I  Drop 12 Kilos In 9 Months When I Don't Have Time To Exercise?
How can I free up some time for myself without dodging my Dad duties?
I'm training hard. Why am I not losing more weight?
How do i stick to a healthy eating plan?
How Can I Make An Extra $1m Before I Retire?
Super Fit Dad's advice has featured in:
There Are No Courses That Prepare You For Being A Dad
Well, none that are any use.
That sucks.
And I'm not sure I'm the guy to create one.
Because, honestly, I suck at being a Dad.
You see all these pictures of happy families and guys talking about it being the best thing that ever happened to them.
And, don't get me wrong, a lot of the time it is.
But the flip-side is that you also see the guys with babies come into work. And they're shot - zombies who have been brutalised throughout the night by the relentless crying of a baby who doesn't give two fucks about your 9-5 schedule.
It's a relentlessly tough gig, I know.
I've been there and have the scars to prove it.
But what if there was a kit bag of tips and hacks that help you navigate the minefield that is being a Dad, especially in the early days?
What if you could galvanise yourself for what's to come and make yourself bulletproof and battle-ready?
What if there are some short cuts to winning the daily battle?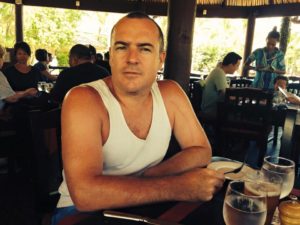 "I've been working with Ben for three months as part of my recovery from a badly broken arm.  We started with conditioning work and moved onto  kettlebell workouts as I try to regain some strength. I've lost weight and my partner has noticed the change in my body composition. I used to waste hours in the gym and never realised I could get these results with three 30 minute sessions per week." Colin Winn - Dad
You Have To Start With The Fundamentals
And Then Ensure You've Got This Stuff Covered
Do All Of This And You Stand A Pretty Good Chance Of Success
The problem is that whilst this looks easy enough on paper or a screen, it's surprisingly difficult to stick to, especially if you're a Dad in the trenches.
That's Where The Super Fit Philosophy Kicks In
An operating system for Dads, enabling them to retake control of their lives and become an even better husband and father

"Super Fit Dad gave me fundamental financial advice that I've been able to put into action to start saving. This isn't some risky, get-rich-quick scheme but a long-term strategy designed to preapre me for the future. This is information that would have cost a lot in time or money for me to get elsewhere."
Gary Rafferty - Soccer Coach
Certifications & Affiliations:
A little about me...
My name is Ben Ford. I'm the founder of Super Fit Dad.
You can read more about my story here.
I share tips and hacks with guys - Dads, mostly - to help them lead an easier and more efficient life. The term 'hacks' sometimes gets a bad rap. People think of them as cheats or get-rich-quick schemes.
I don't.
I view hacks as new techniques that help people with a problem that isn't being solved.
Perhaps my 'hacks' aren't actually hacks because they are mostly aimed at creating long-term solutions to problems that people have struggled with for some time.
Below you can download my free ebook - Hack Your Way To Health - featuring 26 of my favourite life hacks which show you how to:
- Make an extra $1m before you retire
- Energise your day with the right morning rituals
- Get a ripped, lean body with 15 minute home workouts
- Hack breakfast & shift stubborn fat in 10 minutes
Transform Your Life Today
We respect your privacy. That means no spam.
I share my learning and strategies in weekly blog posts covering topics like:
- The best bodyweight workouts
- Dating and woo-manship for single Dads
- Investment strategies to help you retire earlier and wealthier
- Goal setting and personal development
On Fridays, two 15-minute HIIT workouts are emailed out to ensure Dads can stay on top of their training during the weekend.
I'm determined to give you the tools you need to thrive as a Dad during one of the toughest phases of your life.
If the information here site helps just one Dad avoid some of the mistakes I've made and live an easier and more successful life, then the aims of Super Fit Dad will have been achieved.
Good luck.