What Happens At The Ashram…7 Things To Know Before You Go On A Family Yoga Retreat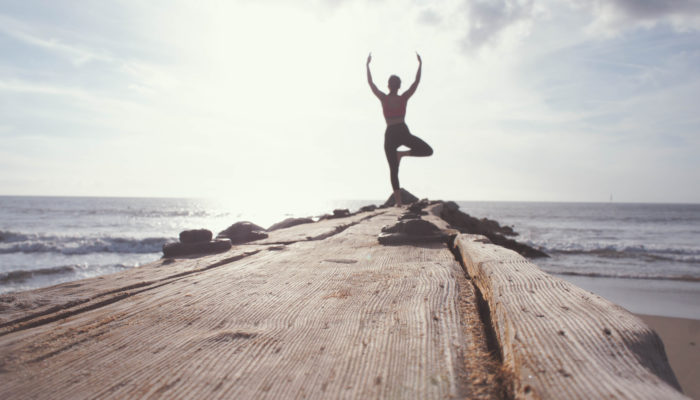 This Easter weekend we packed our bags and headed up to Mangrove Mountain to Mangrove Yoga, about an hour north of Sydney, for a family yoga retreat.
It would be a chance for us to switch off from the hectic pace of city life, disconnect from our phones and become one with nature.
Or so we thought…
The retreat started at 2pm on the day before Good Friday. Never ones to conform, we arrived at 9pm to pitch darkness, having missed dinner, taken a 40 kilometre detour and acquiring a puncture along the way.
Terrific.
After such an auspicious start it could only improve from here, right?
1. There's A Difference Between An Ashram And A 'Retreat'
A retreat is what a pseudo-spiritual babe (from the Eastern suburbs of Sydney, naturally) who loves yoga-as-a-workout and green-smoothies-as-a-prop goes to.
An ashram is a deeply spiritual experience where you give yourself up to the karmic meanderings of Krishna and other Indian Gods & Goddesses.
There were a few arrivals who looked as though they'd gotten the two mixed up which, I have to say, would be a fairly easy mistake to make. They didn't seem very happy about it though.
At the ashram, yoga is almost secondary. I barely completed a class during the five days there, although, admittedly, a lot of this was due to escorting #superfitkid from the room whenever he misbehaved.
2. You Are Stripped Of The 'Essentials' and left with just the actual essentials
No meat.
No coffee.
No wine.
No phone reception.
No newspapers.
What, in some, could cause an outbreak of fear and anxiety, is actually deeply liberating.
Without any of the crutches that have blighted our day-to-day lives, you're transported back to something resembling childhood and become focused only on what is right in front of you.
I had no idea what this would feel like but can say with conviction that there were no ill effects.
The world didn't stop without me. Which is both reassuring and slightly annoying.
3. Everyone Seems To Only Want Happiness For You
This, I struggled with at the beginning. It's unnatural and suspicious, right?
Why would this person, who I barely know, be positively inclined towards me? What is he after?
Then, slowly, you realise that with the odd exception (yup, guilty), all egos have been left at the front gate.
No-one is trying to 'get ahead', nobody is striving to achieve.
They're just completely absorbed in the here-and-now. Just enjoying the experience.
And once you can get past that yourself, it's a beautiful thing. Slightly trippy and a little weird, sure. But really cool.
4. It Gets Real Deep
Turns out these swarmis; or gurus; or nuns – I never quite worked that out – can really groove.
When they get into their mantras or chanting or prayers, things get super-spiritual and almost haunting. The sheer focus and unwavering devotion to what they are doing is awe-inspiring.
This applied to people of all ages, right down to the kids.
I'm not quite sure this Super Fit Dad is quite ready for that in terms of fully participating, but it was somehow life-affirming to behold.
5. Going To Bed At 8pm Feels So Decadent
Dinner at 6.30pm. Bedtime at 8pm. Lights out and 'mauna' (silence) from 9pm.
Without the distractions of television, the internet and the dreaded dumb-phone, this is surprisingly easy.
And even #superfitkid seemed to buy into it which made for a relaxing time.
I was towards the end of a gripping novel so did manage to sneak a couple of short reading sessions by the light of a head torch (something I'd definitely recommend packing on account of a) the darkness and b) feeling like Bear Grylls during a midnight bathroom run).
6. Nobody Minds That Your Kid Is The Worst Behaved Kid There
Because there are no rules per se, everyone is very tolerant and forgiving.
The retreat leaders are so zen and chilled out that a tyrannical four year old is nothing to them.
But I swear to God, I'm sure there were times when they wanted to give #superfitkid a swift whack on the backside as he rode roughshod over their carefully planned meditation sessions with his running and whooping and wrestling.
In the end, though, what in your own eyes is your child being the naughtiest is actually them just adjusting and having fun, and nobody else really seemed to care.
7. 'Conscious' Parenting Is Actually 'A Thing'
I thought we'd gotten away with it.
A relatively painless break without having to get up-close-and-personal. The last night was a movie-night in the rumpus room – all the kids piled onto mattresses on the floor; adults on sofas at the back.
And then the whisper rippled around the room. One of the gurus wondered if we'd like to attend a 'Conscious Parenting' session upstairs?
WTF?!
Obviously, I said no immediately.
But #superfitmum wasn't having any of it so up we went to complete a circle of ten others, despite my whispered howls of protest.
So we sat and each talked through some issues we face in our parenting, and where those stemmed from, as well as highlighting things we do well as parents, lighting a candle as we did so.
Turns out it was one of the best things we did all weekend.
There was no judgment as some of the stories got pretty heavy and some tears were shed. I guess it was how an AA meeting might feel; the collective strength and support of the circle triumphing over any negative thoughts that might get in the way.
Summary
I went into this with a very open-mind which, to be honest, I didn't really need.
A weekend or longer spent here is a truly life-enriching experience that transported me back to a long-forgotten time when life was very simple and uncluttered by the myriad of distractions that most of us face today.
I'm quite sure everyone's personal experience would be different but all would be rewarding and soulful.
If you have a family this is a great thing to do. If you don't have a family this is a great thing to do.
SFD