What Does It Take For A Regular Guy To Step Into the MMA Octagon?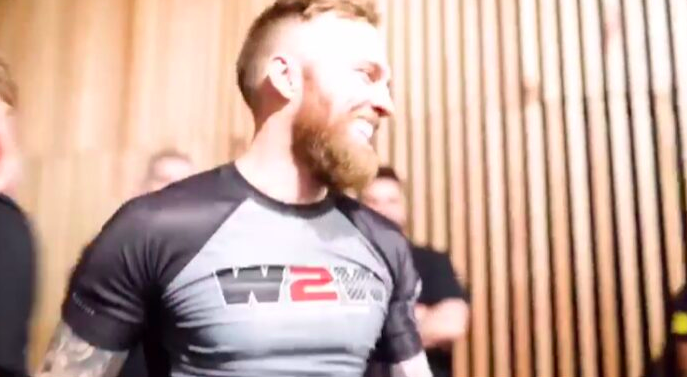 This may be unsurprising to those who know me from my days on the cobbles as one of the (self-proclaimed) most feared street fighters in the small & leafy village of Frisby-on-the-Wreake, but I've always had a peculiar interest in the fight game.
From late night stay-ups with my Grandpa watching Barry McGuigan bring World featherweight titles back to Ireland to Frank Bruno's plucky but ultimately fruitless quests for heavyweight glory against Tim Wetherspoon and then Mike Tyson, boxing has always intrigued me.
Things took a more macabre turn in the early and mid-nineties as fights featuring Chris Eubank, Michael Watson, Nigel Benn and Gerald McClellan left the protagonists quite literally fighting for (or questioning) their lives.
The interest, though, remained keen and continued through the years, culminating in a morbid fascination with the UFC, the focal point of the mixed martial arts (MMA) game.
My fascination probably starts with the conditioning, then the skills, followed by the bravery and some primitive, pugilistic yearning that runs through us all.
I don't know.
What I do know is that when a friend and former colleague of mine, Tom Baker, stepped into the Octagon for his maiden MMA fight, I found myself asking all sorts of questions about whether I could ever muster up the minerals or the ticker to do the same.
The answer is obviously a resounding 'no'.
So, I went to him seeking answers to the same questions and how he faced his fears and took MASSIVE action.
Here's what he told me.
Interview
BF: Bakes, this wasn't your first rodeo – you've previously fought under the Corporate Fighter boxing  program, but that was a few years ago from memory. What was the genesis of you deciding to get back into the ring / octagon?
TB: Yes, my one and only boxing bout came under the "Corporate Fighter" promotion back in 2012, so 7 years is obviously quite a long time between drinks. In that time I developed a real keen interest in MMA as a fan and always wondered what it would be like to get in the octagon. I thought my days of fighting had passed but I hit a bit of a flat spot in life last year and wanted to set myself a new goal, and what better way to really test yourself. I saw an advertisement online and the opportunity to train under Aussie MMA legend Dan Kelly was too good an opportunity to pass up.
BF: And how is the program set up in terms of coaching, training etc. What did your training schedule look like? And what were you doing, fitness-wise prior to starting training for the fight?
TB: I was actually pretty unfit coming into the program. Just prior I had spent 3 weeks eating and drinking my way round Europe and had blown out to about 93kgs, about 7 kgs heavier than my normal weight.
The training program was effectively a 22 week crash course in the fundamentals of MMA (striking, grappling, Brazilian jui jitsu etc) and ramped up in intensity over time. For the first month we were training 4 mornings a week, which became 5 mornings for the next 5 months. This was typically split into two fitness / cardio sessions, one BJJ / grappling session and two striking sessions. For those of us who took it really seriously, we would also join some of the open MMA & BJJ classes in the afternoon. The closer we got to fight night, the skill sessions progressed to a lot more live sparring. Along with my own own cardio / strength and conditioning sometimes I would train up to 10 times a week, but would say 8 sessions was average by the end.
BF: What was your diet like? Presumably you cut back alcohol for this given the training? What about any supplements?
TB: I didn't want to have to be cutting weight in the last few weeks, so was pretty strict early on. For the first 3 months I was just focused on maintaining a solid calorie deficit, but over the last two I actually ramped up my intake to support the demands of the training intensity. I found I didn't really need the supplements, because I was eating so well and getting good sleep.
For the first few months I still allowed myself to have a few drinks on a Saturday night, but in the last few months, cut out alcohol completely. I ended up weighing in at 79.5kgs, so about 13kgs loss overall and think staying off the booze played a big part in that.
BF: Were there any points at which you doubted yourself and considered pulling out of the fight? Did anyone else try and stop you fighting? The missus, your folks?
TB: I never considered pulling out, but I doubted myself regularly. It was a complete emotional roller coaster. There would be days where I would be landing real clean punches and kicks in sparring, then I'd have other days where I was completely off and would walk away bloodied and bruised. It certainly takes some time getting used to taking the shots. I got rattled a few times early on and thought "shit, what have I signed up for?", but that became much easier over time.
My wife, mother and mother-in-law were all very nervous, but also very supportive. When they understood my reasons for doing it, they got right behind me.
BF: Going back to the training. You'll have been confident about the boxing, I'd imagine. Had you ever done any wrestling or BJJ before? What was your approach to that?
TB: Yes, having had some foundational boxing skills really gave me some confidence on my feet, but I'd never done any wresting or BJJ. It was a whole new world to me, but I really enjoyed the training. BJJ in particular is so strategic and I really enjoyed learning the concepts, completely different to anything I'd done before. That's the beauty about MMA and the Wimp 2 Warrior programme. Every day is different and you need to become proficient in quite a few areas. I did some extra BJJ sessions to fast track my progress and it was really humbling getting schooled by guys and girls 20-30 kilos lighter than me.
BF: Talk me through the day of the fight. How did you spend the day? How did you feel in the hours before the fight?
TB: On the day, I arrived at the venue about 2:00pm and I didn't fight until about 7:00pm, so it was certainly a nervous wait. By the time we got final medical checks, hands wrapped, stretched, warmed up and watched some of the other fights, it went pretty quickly. I also made sure I got into the cage and did some visualization / shadow boxing before my fight. This calmed me right down and I was actually really chilled by the time I walked out.
The fight itself was a classic case of striker vs grappler and unfortunately for me I got found out on the ground. I landed a few nice shots early in both rounds, but my opponent pretty comfortably got me to the ground and ended up winning by decision.
BF: And I've seen the ring-walk and the moments just as you're stepping into the Octagon. It actually looks like a UFC fighter about to go into battle? You looked pretty comfortable in that environment. What was going through your mind then?
TB: I decided very early on that it wasn't just about winning or losing for me and I think that mentality meant I was a little calmer than I had been for my boxing bout years earlier. I just wanted to put on a good show and for people to think I looked like I knew what I was doing. The feeling of walking out to your own song, with your corner behind you, family and friends screaming is like nothing I've ever experienced. I'll cherish that memory for the rest of my life.
BF: The big question, I guess, is are you going to do it again? If so, what would you do differently this time around? And what advice would you give to anyone else who might be considering their first scrap?
TB: If you'd asked me this question immediately after the fight, I would have said I was done. 7 weeks later, however, I've got the itch to get back out there. I'm going to start training again and just see where it goes.
For anyone considering, I couldn't recommend the program highly enough.  The program caters for all levels including those who are pretty unfit and have had zero fighting experience. Some of the transformation stories were incredible. I would also say that the more you commit (cut back on drinking, eat well, do extra sessions, listen to your coaches) the more you will get out of it.
BF: And finally, which nom de guerre did you adopt for this bout? Was it 'Smooth' Tommy Baker or did you stick with Tom 'The Widow Maker' Baker? Both are pretty good.
TB: In an attempt to try and get a psychological edge, I stuck with Tommy "The Widow Maker" Baker. Unfortunately, I think the promoters felt it was not in the spirit of the competition.
BF: Yeah, funny that. 
Summary
And there we have it.
Massive thanks to Tom for sharing his insights into and experiences of something that I'd guess a few of us have pondered, but even fewer will ever act on. This certainly satisfied a lot of my curiosity about how the whole thing went down and has increased my, already sky-high, admiration for taking huge action and actually getting amongst it.
Thanks buddy.
And if you haven't yet watched the video of Tom's ring-walk, I encourage you to do so, as it was this that actually prompted me to reach out to him and start asking questions. Goosebumps all day long.