15 Smart Tips For New Dads – How To Get Your Mojo Back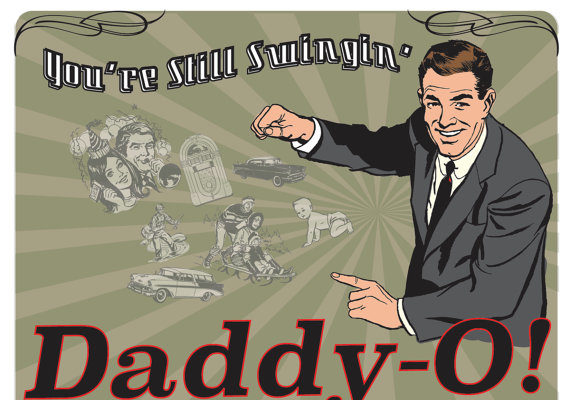 All new Dads know the drill. Any would-be or wannabe Dads might as well get with the program, too, because it will creep up before you know what's hit you.
I'm talking about the 'Dad effect', the gradual phenomenon that takes you from punchy to paunchy, from smooth to slovenly and from expectant to exasperated in the space of a few short months.
Its entirely natural given the accumulated lack of sleep and complete disruption to a lifestyle that previously seemed to footloose and fancy free. Your amazing little bundle of joy cares not for your training schedule, your early starts for work and the latest series on HBO.
As a consequence your waistline slowly expands, your jeans sink a little lower around your waist and your stubble starts to become more beard-like by the day.
It needn't be like this, however. There are a number of small steps you can take to arrest this decline and get your mojo back post-baby.
Heck, if you can tick enough of these off, then you might even find yourself having sex again. Well, maybe.
1. Buy a Kettlebell
The most devastating weapon in a fit Dad's arsenal enables you to workout at home, on the balcony, in the garden, whilst the baby is sleeping, whilst dinner is in the oven.
The list is endless.
Try Iron Edge in Australia or Amazon elsewhere. Or check your local Gumtree listings.
2. Eat a Salad for Lunch
A small shift away from the usual food court temptations (Asian, Mexican, Curries etc), the variety of tasty salads available mean this isn't too much of a chore but has a great ROI and gets you well on the way to your 5-serves-a-day.
3. Have Your Own Time
I was speaking to a friend recently about this and we agreed that we became embroiled in doing everything together once the baby was born, largely out of fear of being left alone with the little terror/s.
In hindsight, there was no need to be so scared. So keep some time to yourself, even if it's just a little.
4. Give Your Wife/Partner/Girlfriend Her Own Time
A function of #3.
5. Download a Tabata Timer App
Can be used with your kettlebell or with simple bodyweight exercises. Delivers a solid workout in 10 minutes. Perfect for time-poor Dads.
You can read more about Tabata here but it's a HIIT (high intensity interval training) workout lasting 4 minutes made up of 20 seconds of work, followed by 10 seconds of rest done 8 times.
Search the app store to find a free one you like. Here's one I found.
6. Overhaul Your Wardrobe
Ditch the worn in/out denims and the broken Asics trainers. Buy some lightweight chinos from Scotch & Soda and a pair of evergreen Vans. Or whatever takes your fancy. Just freshen things up a little.
We're not trying to be fashionistas here and we want to be at least semi age-appropriate. Zara do some pretty cheap basics if your budget is tight.
7. Get a Really Good Haircut
Your monthly trim gets pushed out to 6 weeks. You think you look grungy-chic. Nobody else does, especially the Mrs.
8. Meditate
Taking time out might seem like a ridiculous and unattainable luxury but 10 minutes a day of switching off and allowing you mind to wander or stay still will have pronounced benefits.
Try the Headspace app which offers a 10 day free program to get you started.
9. Workout at Lunchtime
Two key benefits to this: 1) it gets you out of the office during the day, the benefits of which are countless; 2) it means you can spend your evening cooking dinner and helping out.
Try an descending ladder of burpees combined with a 40m run. Start with 15 burpees and then run out 20m and run back 20m. Then do 14 burpees and run out and back. Then 13 and so on. This will hit most major muscle groups and elevate your hearth rate enough to start the metabolic process that blasts fat.
10. Work From Home Once a Week
This can be a great way to break up the week and take a little pressure off everyone. Without office distractions you can be more productive in your work but also use your lunch hour to walk the baby or get to the gym.
Position it as a win-win to your boss, emphasising the productivity increase it will generate for the company.
11. Use Pram-Walks as Workouts
If you live in a hilly area the mere act of going for a walk can get the heartbeat up. Throw in a 9kg pram and an 8kg baby and we have the makings of a 'baby prowler push'.
The 30 minute stroll becomes 30 minutes of weighted hill repeats – perfect for a time-poor new Dad.
12. Don't Sweat the Small Stuff
Your time is being swallowed whole by the little addition. You simply don't have any to waste on insignificant things (or people).
13. Forget Everything You Say to Each Other for the First Two Years
This was said to me in jest, except a 4 year time-frame was used. It's actually a pretty handy and reliable mandate, though, and worth keeping front of mind when you're in the trenches.
14. Set up an Investment Plan
In fact, set up two. One for the baby: an investment bond in the order of $100 or so per month will do to start. A second for the family in low-cost index-linked fund.
It might be the last thing you think you can afford and it doesn't matter if the amounts are small. The key thing is to start the habit of monthly investments via direct debit. The power compounding will take care of the rest.
For more detail on how you should start saving and investing for a wealthy future, read this article that outlines the steps that you should consider.
15. Outsource Everything (You Can)
You'd think the marginal increase in chores a baby brings would be small, right?
Wrong! Laundry requirements double despite the family unit only growing from 2 to 2.5. A typical grocery shop that could previously be crammed into a single basket now requires two trolleys.
In the face of this onslaught if there is anything you can outsource, my advice is to do it. Hiring a cleaner for an hour a week will: a) save you getting roped in to do it; b) give your partner a break for which she will most likely be very thankful 😉 ; and c) keep the house looking great.
An absolute win.
16. Start Dating as Soon as You Can
As in: dating your wife/partner/girlfriend.
It's all too easy to fall into a rut of not going out and wanting to stay in with the little one. But the baby will be okay and your relationship will be healthier for it.
Summary
The beauty here is the simplicity of many of the items on the list. Everyone should be able to knock off five or six of these from the get-go and they will shape a better you which is great news for you, but also your family.
If you get through a dozen of them or more then the impact on your life will be extraordinary.
Nail all 16 and I'd be astonished if you're not reaping the benefits in the bedroom.
Free 7 Day Workout & Diet Program
Enjoy this article? Ready to dial in your training and nutrition? Sign up for my 7 Day 'Reboot Your Life' course to get your started.
We value your privacy. That means no spam.